LET US SHOW YOU WHAT WE CAN DO
A blank piece of paper and a pencil is a pretty good place to begin. We take notes, we doodle, we jot down ideas – a blank piece of paper is a fresh start and can take us from the design studio, in any direction we want. Aside from being pretty darn talented with the pencil, the biggest single factor in how we start a project is really simple. We listen. Every new client relationship starts with a conversation, ideally with a cuppa.
Above all, we're 'people people'. We're at our best when we get to know our clients and their businesses over a period of time – we're not in it to make a quick buck and then disappear, we aim to develop long term relationships that develop and prosper for all those involved. The work that we provide benefits dramatically for this very reason.
BRAND DEVELOPMENT
The most successful brands have a clear understanding of who they are and what their customers want. It's more than just logo design, WeAreBeard is highly skilled at designing new brands and developing existing brands, effectively portraying their strongest qualities through creative, well-considered design.
CAMPAIGNS & STRATEGY
Creativity is our lifeblood, but to get what you want you need to mix great creative work with a strategy that will deliver it into the minds of your target audience. Our team can work with yours to develop a strategy that will make the best use of your available resources to deliver charismatic, logical and well-planned campaigns.
DESIGN SERVICES
A very wise bloke once said 'It isn't just about how it looks, it's about how it works' – or words to that effect. Never have truer words been spoken. With all of our designs, we want to ensure that we create something that does what it is supposed to do. Again, this comes from understanding our clients and also knowing what is trying to be achieved. It's an added bonus that it'll look mighty fine as well.
Our deliberately diverse range of clients forces us to push ourselves and experiment with new styles, rather than getting stuck in a rut doing the same thing over and over again. If you'd like to see what we mean, check out our portfolio.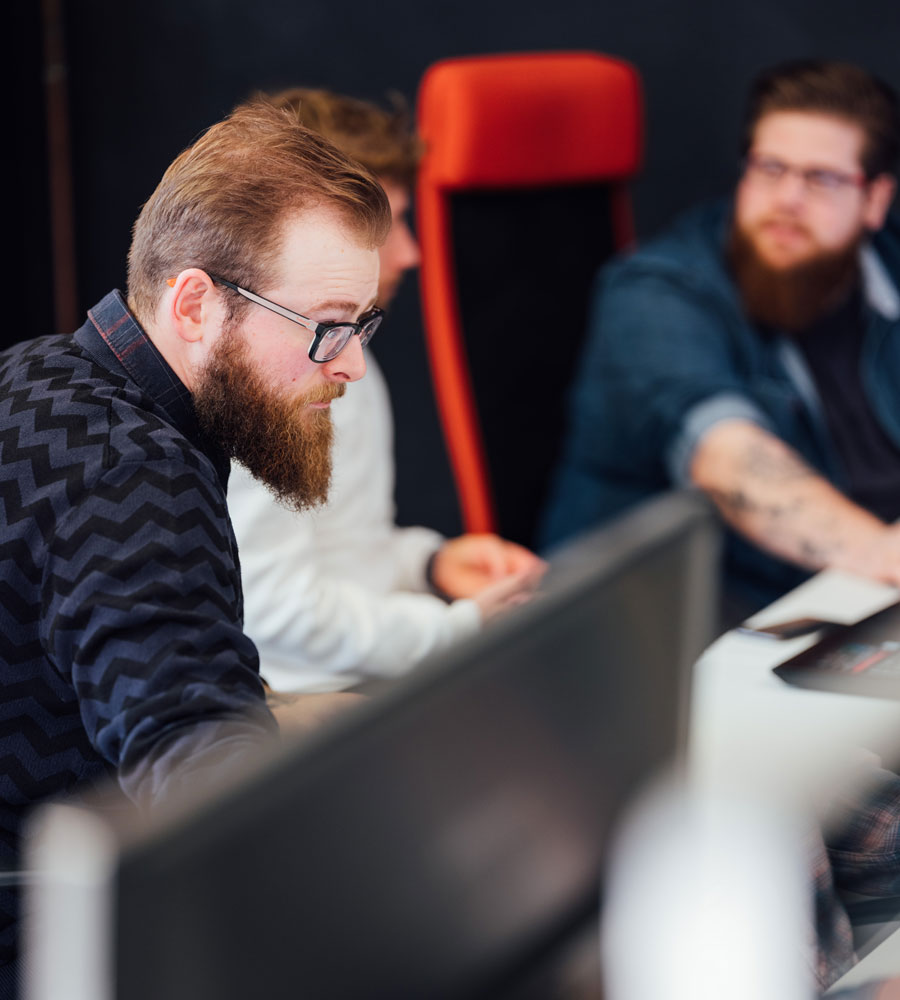 DIGITAL DEVELOPMENT
Web design and development is a natural extension of our 'traditional' digital design services. Not only do we ensure that you get a well built and performing website – but also one that has had a great amount of thought put into the way a user will interact with it.
Whether we're working with open source platforms or developing something bespoke to your requirements, we ensure our projects are stylishly designed, well structured and always have the end user in mind. This is often dependent on client requirements and budget – but all of these details are discussed at the start of the project to ensure that everybody is on the same page.
ILLUSTRATION
& STORYBOARDS
A pencil and paper can still be wonderful things. Whilst most of our work is still created digitally, having the skills to create something freehand can't be underestimated. Whether working on a branding project, a corporate document or a building mural, we can provide bespoke illustrations in a wide variety of styles.
We can also use illustration right at the start of a project, where we create an 'ideas wall' for our clients. This happens during a brainstorming session, where we illustrate the discussion, bringing ideas to life and helping our clients visualise their objectives.
LIVE ART
& MURALS
Our multi-disciplined artists can paint, draw and illustrate onto literally anything – the only limits are your imagination. We can bring exhibition stands to life, taking a blank white stand and making it a growing work of art, this means visitors are given a reason to revisit a stand even when they have already seen what you have to offer (giving you a second bite at the cherry).
We also work at promotional events and awards ceremonies, creating live artwork that represents, well, whatever you want it to! Whether you'd like your staff to be superheroes in a comic strip or create an interactive design that visitors can get involved with, we can help!